Working on Fire has made available to Pafpa a team of basic firefighters under the guidance of two crew leaders and managed by the Pafpa Fire Protection Association Manager. With prior arrangement and SUBJECT TO CERTAIN TERMS AND CONDITIONS, this team, or part of it, may be allocated to landowners in our area to assist with fire-related tasks such as:
· Preparation of Tracer Lines in advance of the burning of firebreaks;
· Eradication of alien vegetation in the process of fuel load reduction;
· Clearing of overgrown grass verges on roadways;
· Burning of firebreaks;
· Burning of camps;
· Assisting with mop-up operations after a runaway fire.
If you are a landowner in the Pafpa area, you may be entitled to make use of the Working on Fire Hand Crew, based in Dullstroom, for assistance in preparing tracer lines, controlled burning and many other tasks.
Contact Thys Prinsloo, the Fire Protection Association Manager to find out more:
·
Cell: 082 494 5639

·
Email: mvrprinsloo@vodamail.co.za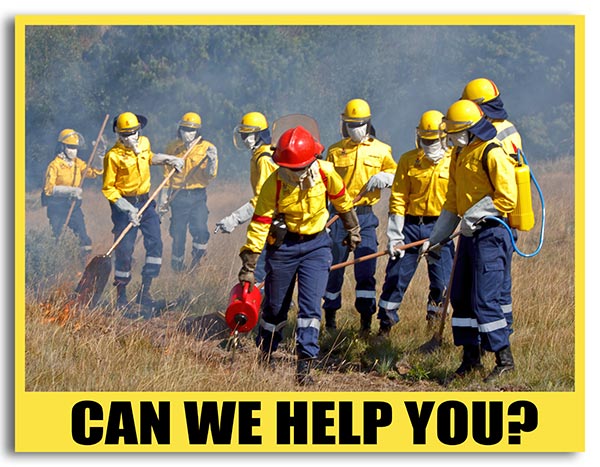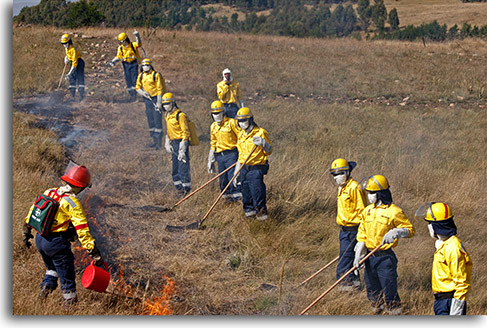 Here a half-team (called a single stick) of the Pafpa WoF Hand Crew works on a landowner's property preparing tracer lines for the winter fire break burning.
Basic equipment and personal protective clothing supplied.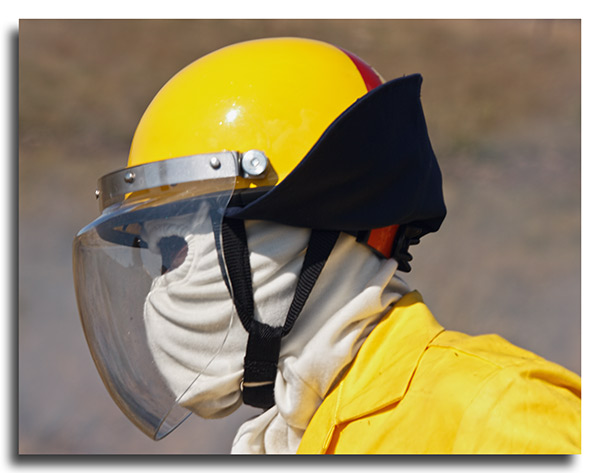 The team is properly attired in the correct type of clothing required for their tasks and is provided with most of the basic equipment needed for fire fighting and controlled burning. Check with the FPA manager whether your specific needs require additional equipment.
A resource for Pafpa landowners.



This crew is a resource made available to Pafpa by the State through Working on Fire to assist landowners in meeting their obligations in terms of the Veld and Forest Fire Act and the Pafpa fire prohibitions and regulations.

Trained team at affordable rates.



The Pafpa Hand Crew has undergone prescribed WoF basic fire-fighting training and is under the guidance of experienced crew leaders.

Complies with WCA and other labour legislation.



The team are employed by Working on Fire and comply with labour legislation regarding Unemployment Insurance, Workmen's Compensation, sick and normal leave, hours of work and other legal requirements.

A cost effective way to make your land safe.



If a WoF team is allocated to you, there should be no reason not to comply with the law and regulations regarding firebreaks or the burning of camps.
Disclaimer: Whilst every effort has been made to ensure that the information contained in this website is accurate and up to date, neither Pafpa nor its agents accept any responsibility for any errors or omissions herein.

This page was updated on 4 April 2021